Stamped Decorative Concrete 92115
San Diego Decorative Concrete
Decorative Concrete San Diego
Decorative concrete coatings can add a touch of style to any home improvement project. A homeowner doesn't have to rely on functional but boring concrete thanks to the availability of decorative concrete. It helps improve the aesthetics of your construction project. Decorative concrete offers design flexibility to any project. A homeowner can use decorative concrete to create acid-etched, stained, stamped or polished floors. Concrete is usually strong and durable. Add a decorative concrete coating on top on normal concrete and you will get an aesthetically appealing as well as a timeless floor. Your floors will last for many many years to come when you add a decorative concrete coating on top of a normal concrete floor. Choose a high-quality construction company to design and install the best decorative concrete floors and driveways in your home.
San Diego County Decorative Concrete Contractor
If you're considering adding decorative concrete to your home, RKC Construction can provide you with top-notch workmanship. Your concrete will be installed by certified, experienced professionals; each project we complete is personalized to the preferences of our clients.
Before starting our work, we'll go over all of the options and create a unique plan that fulfills your needs. We offer competitive pricing, and our free estimates thoroughly explain our charges. Our company is proud to be fully licensed and insured, and we'll complete your project in a safe and efficient manner. You can rely on us to be respectful of your property as we work.
Stamped Concrete
Stamped concrete is quite popular in most of the modern homes. The value of this specialized concrete presents itself over and over in all types of construction projects. Driveways, patios, malls, and theme parks are some of the most popular places where this type of concrete is added. They are quite durable and come with little or no maintenance. Stamped concrete doesn't need resetting or replacing in the long run. This is one of the main advantages of this product. It completely eliminates tripping hazards in homes, parks, and resorts, etc. Stamped concrete is less labor-intensive compared to other surface materials. It is much easier to pour concrete and create a pattern than hauling and placing individual paving stones by hand. Increased longevity and increased resale value of your home are some of the other important benefits of this type of concrete.
Before
After
Locally Owned & Operated Since 2004
Providing quality service to home and business owners in the San Diego County area since 2004.
Contact us today for a free estimate.
Stamped & Decorative Concrete Contractors In 92115 CA
</p>
Frequently Asked Questions
How To Find The Best Decorative Concrete Company in 92115 CA
What factors should I consider when looking for a decorative concrete company?
When searching for the best decorative concrete company in 92115, CA, consider the following factors:
Experience and expertise in decorative concrete services
Positive reviews and testimonials from previous clients
Portfolio showcasing their previous decorative concrete projects
Quality of materials and products used
Cost-effectiveness and competitive pricing
Availability and responsiveness
Licensing and insurance
Finding the best stamped concrete contractor in 92115 CA requires some research and consideration. Here's a step-by-step guide on how to find the right contractor:
1. Do some initial research: Start by doing some research online to find a list of stamped concrete contractors in the 92115 area. Look for contractors who have experience in stamped concrete and specialize in the type of project you have in mind.
2. Check for credentials: Once you have a list of potential contractors, verify their credentials. Ensure they are licensed, bonded, and insured. This will protect you in case of any accidents or damages during the project.
3. Look for experience: Look for contractors with a significant amount of experience in stamping concrete. Ask for examples of their previous work and see if it matches your style and preferences.
4. Read customer reviews: Look for customer reviews and testimonials online. Check popular review websites or ask for references from the contractor. Reading about other customers' experiences will give you an idea of the contractor's reliability and quality of work.
5. Get multiple quotes: Contact at least three different contractors and ask for a detailed written quote for your project. Make sure the quote includes all the necessary materials, labor costs, and any additional charges.
6. Schedule consultations: Meet with each contractor in person to discuss your project. Use this opportunity to ask questions, discuss your ideas, and see if the contractor understands your vision. Pay attention to their communication skills and how well they listen to your requirements.
7. Ask for examples: Request to see samples of the contractor's previous work, preferably projects similar to yours. This will give you a better idea of their craftsmanship and attention to detail.
8. Check for warranties and guarantees: Inquire about warranties or guarantees the contractor offers for their work. A reputable contractor should provide a warranty that covers any defects or issues that may arise after the project is completed.
9. Compare prices: Compare the quotes from different contractors to ensure you are getting a fair price for your project. Be cautious of extremely low prices as they might indicate subpar quality or hidden costs.
10. Sign a contract: Once you have selected the best contractor for your project, make sure to sign a detailed contract that outlines all the agreed-upon terms, including project start and completion dates, payment schedule, and materials to be used. Make sure you understand all terms and conditions before signing.
By following these steps, you can find the best stamped concrete contractor in 92115 CA to turn your vision into reality.
Tips for Finding a Concrete Paving Service in 92115 CA
When it comes to finding a reliable and professional concrete paving service in the 92115 CA area, there are a few key factors to consider. Taking the time to do your research and choosing the right company can save you both time and money in the long run. Here are some tips to help you find the perfect concrete paving service for your needs.
Experience and Reputation
One of the first things to look for in a concrete paving service is their level of experience and reputation. It's important to choose a company that has been in business for several years and has a track record of delivering high-quality work. Reading customer reviews and testimonials can give you valuable insights into the quality of their services.
Licensing and Insurance
Another crucial aspect to consider is whether the concrete paving service is properly licensed and insured. By ensuring that the company has the necessary licenses, you can be confident that they adhere to local regulations and standards. Additionally, having insurance coverage is essential to protect both you and the workers in case of any accidents or damages during the project.
Range of Services
A good concrete paving service should offer a wide range of services to meet your specific needs. Whether you require a new driveway, patio, or sidewalk, choose a company that can handle various types of concrete projects. This not only demonstrates their expertise but also ensures that they have the necessary equipment and skills to deliver top-notch results.
Request Multiple Quotes
When comparing different concrete paving services, it's always a good idea to request multiple quotes. This will allow you to compare prices and services offered by different companies. However, keep in mind that the lowest price doesn't always guarantee the best quality. Consider the reputation, experience, and range of services offered by each company before making your final decision.
Conclusion
Choosing the right concrete paving service in the 92115 CA area requires careful consideration. By taking into account factors such as experience, reputation, licensing and insurance, range of services, and obtaining multiple quotes, you can make an informed decision and ensure that your project is completed with the highest standards of quality and professionalism.
MCID Concrete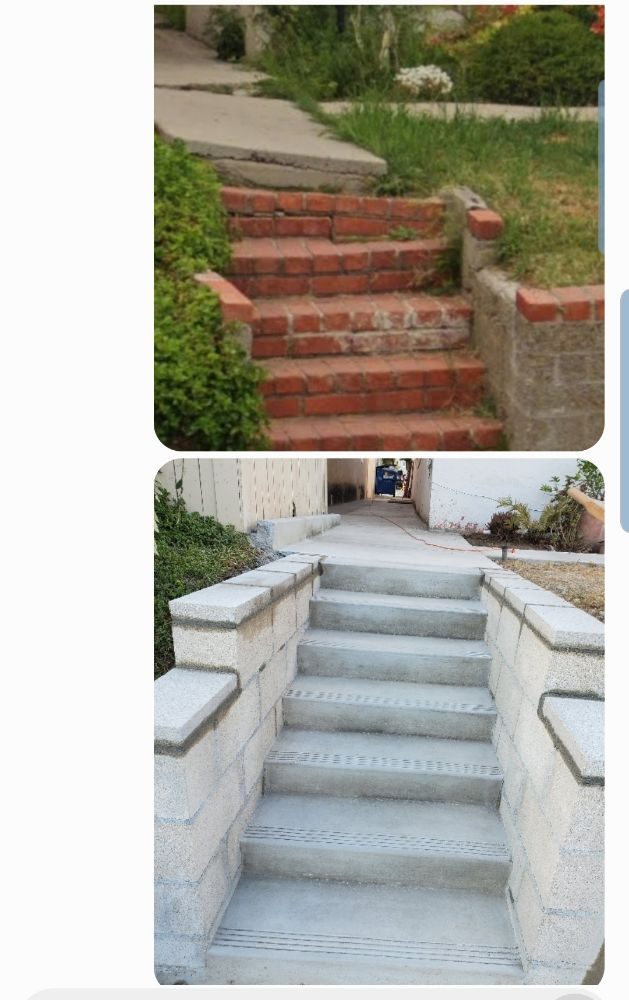 Masonry/Concrete
+16198828566
San Diego, CA 92104
SK Concrete
Masonry/Concrete, Excavation Services
+16199335133
9246 Emerald Grove Ave, Lakeside, CA 92040
RML Concrete
Masonry/Concrete
+16194993373
El Cajon, CA 92020
FMJ Concrete
Masonry/Concrete, Fences & Gates
+16198881294
El cajon, CA 92040
About Our Company and Service
Thank you for considering RKC Construction services near 92115 CA.