Enjoy the beautiful San Diego weather in one of our high-quality patio covers.
During the warm summer months, the intense heat of the sun can make the experience less than comfortable. Fortunately, we have an easy, cost-effective solution. Our high-quality patio covers are designed to shield you, your family, and your guests from the sun's rays so you can enjoy outdoor picnics, barbecues, and parties even on the warmest days.
High-Quality Aluminum Patio Cover
A high-quality patio cover will protect you from the hot and humid weather in the summer months. In fact, a new patio cover is one of the most affordable home improvement projects that can be undertaken by a homeowner. It can protect your outdoor furniture from the UV rays of the sun and keep them in excellent shape in the long run. A customized patio cover will extend your outdoor living space allowing you and your family to spend more time in the backyard regardless of the weather. Although many homeowners don't realize, a quality patio cover can help keep the interior of your home cooler during the summer months by shading the windows. A custom aluminum patio cover requires little or no maintenance at all. These are some of the important advantages of an aluminum patio cover.
We install any style of patio cover including: traditional open style lattice patio covers, solid style insulated laminated patio covers, combination style Elitewood patio enclosures, Alumawood aluminum patio enclosures, awnings, pergolas, and patio enclosures. Our patio enclosures feature optional Illumaview™ Skylight Systems and ceiling fans and are fully customize-able to fit your material and color preferences.
Contact RKC Construction today to learn more and schedule a free quote today!
Solar panels can be installed on any 4″ insulated patio cover. Panels will be specifically engineered for your home.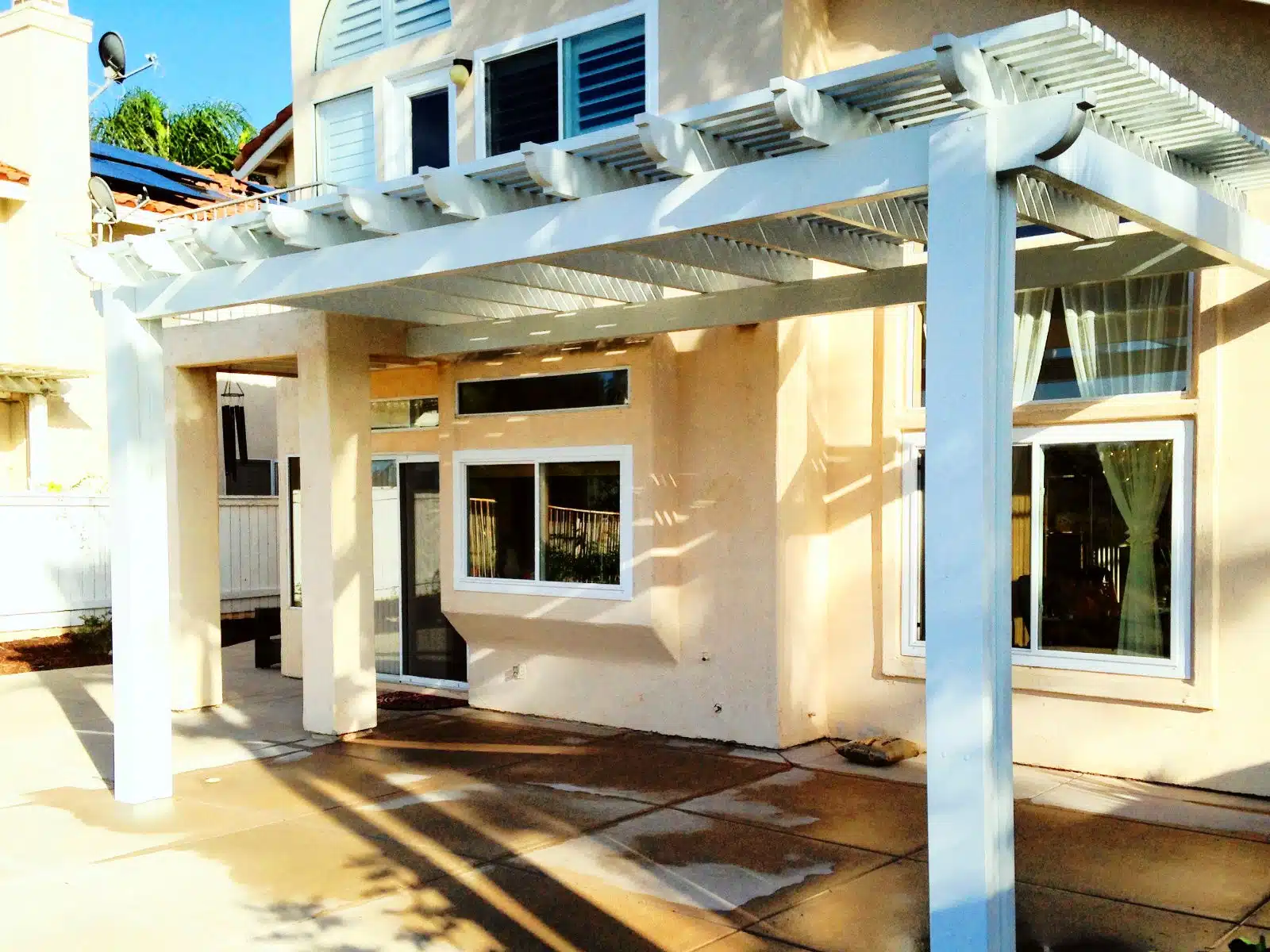 Open Style Patio Cover
Select the amount of shade you prefer with a traditional style open lattice patio cover. Open style patio covers can also provide a cooling ventilation effect for your covered patio area.
Solid Style Patio Cover
Complete protection from the sun or rain. Solid style patio covers are available in both insulated and non-insulated models. Ceiling fans and light fixtures are also optional.
Combination Style Patio Cover
Get the best of both worlds with a combination style patio cover and enjoy your patio rain or shine. Custom design your patio cover for a complete outdoor living experience.
Locally Owned & Operated Since 2004
Providing quality service to home and business owners in the San Diego County area since 2004.
Contact us today for a free estimate.
Patio Covers In Vista CA
</p>
Frequently Asked Questions – Patio Covers in Vista, CA
Patio Cover Frequently Asked Questions
How do I choose the best patio cover?
There are several factors to consider when choosing a patio cover in Vista, CA. These include the material, design, durability, and budget. It's recommended to consult with a professional patio cover provider who can assess your specific needs and guide you towards the best option that suits your requirements and preferences.
Can I install a patio cover myself?
While it is possible for some individuals to install a patio cover themselves, it is often recommended to hire a professional. Proper installation requires knowledge of local building codes, expertise in handling tools, and ensuring the structure is safe and secure. A professional installer can ensure the job is done correctly and efficiently.
To find the best enclosed patios and sunrooms in Vista, CA, you can follow these steps:
1. Research online: Start by searching online for businesses that specialize in enclosed patios and sunrooms in the Vista area. Look for companies that have positive customer reviews and a good reputation.
2. Check local directories: Check local directories like Yelp, Google Maps, or the Yellow Pages for businesses in Vista that offer enclosed patios and sunrooms. Read the reviews and ratings from previous customers to get an idea of the company's quality.
3. Ask for recommendations: Reach out to your friends, family, or neighbors who have recently installed an enclosed patio or sunroom in Vista. They can provide valuable insights and recommendations based on their personal experiences.
4. Visit home improvement shows or exhibitions: Attend home improvement shows or exhibitions in Vista or nearby areas. These events often showcase companies specializing in outdoor living spaces, including enclosed patios and sunrooms. You can interact with the professionals, ask questions, and see their work in person.
5. Schedule consultations: Once you have shortlisted a few potential companies, schedule consultations with them. During the consultations, discuss your requirements, budget, and any specific design ideas you have in mind. Take this opportunity to ask about their experience, licensing, warranties, and see if they can provide references from previous clients.
6. Compare quotes: After meeting with different companies, request detailed quotes for the enclosed patio or sunroom project. Make sure the quotes include all the necessary materials, labor costs, and any additional fees. Compare the quotes and consider factors such as quality, warranty, and customer service before making a decision.
7. Visit completed projects: If possible, visit some of the completed enclosed patios or sunrooms that the companies have worked on. This will give you a better idea of the quality of their workmanship and help you visualize how their designs will look once completed.
8. License, insurance, and permits: Ensure that the company you choose has the necessary licenses, insurance, and permits to work in Vista, CA. This will protect you and your property from any potential liability.
By following these steps, you'll be able to find reputable companies specializing in enclosed patios and sunrooms in Vista, CA, and choose the best one for your needs.
Tips for Finding a Screen Porch Installer Company in Vista CA
Introduction:
Are you considering adding a screen porch to your home in Vista, CA? Hiring a professional screen porch installer company is key to ensuring that your project is completed on time and to your satisfaction. With numerous options available, it can be overwhelming to choose the right company for the job. In this article, we will provide you with some helpful tips for finding the perfect screen porch installer company in Vista, CA.
Research and Recommendations:
Start by conducting thorough research on screen porch installer companies in the Vista, CA area. Look for reputable companies with positive customer reviews and a proven track record of successful projects. You can also seek recommendations from friends, family, or neighbors who have recently had a screen porch installed. Their personal experiences can be valuable in narrowing down your options.
Licensing and Insurance:
Always ensure that the screen porch installer company you choose is licensed and insured. A valid license indicates that the company meets the necessary requirements and regulations for operating in Vista, CA. Insurance is essential to protect both you and the company from any potential liabilities or accidents that might occur during the installation process.
Experience and Expertise:
Consider the experience and expertise of the screen porch installer company. How long have they been in business? Do they specialize in screen porch installations? It is crucial to choose a company that has a significant amount of experience in this specific field to ensure that they have the necessary skills and knowledge to handle your project efficiently.
Obtain Multiple Quotes:
Request quotes from several screen porch installer companies in Vista, CA. This will give you a better understanding of the average cost and enable you to compare the services offered by different companies. Remember, the cheapest option may not always be the best, so consider the overall value and reputation of each company before making a decision.
Conclusion:
Finding the right screen porch installer company in Vista, CA can be simplified by following these tips. Conduct thorough research, seek recommendations, check for licensing and insurance, consider experience and expertise, and obtain multiple quotes. By taking these steps, you can ensure that your screen porch project is in capable hands and that you will enjoy a beautiful and functional addition to your home.
North County Deck & Patio
Decks & Railing, Patio Coverings
+17603058395
133 Newport Dr, Ste D, San Marcos, CA 92069
Patio Guy
Patio Coverings, Awnings
+19512875882
Winchester, CA 92596
Sunset Outdoor Designs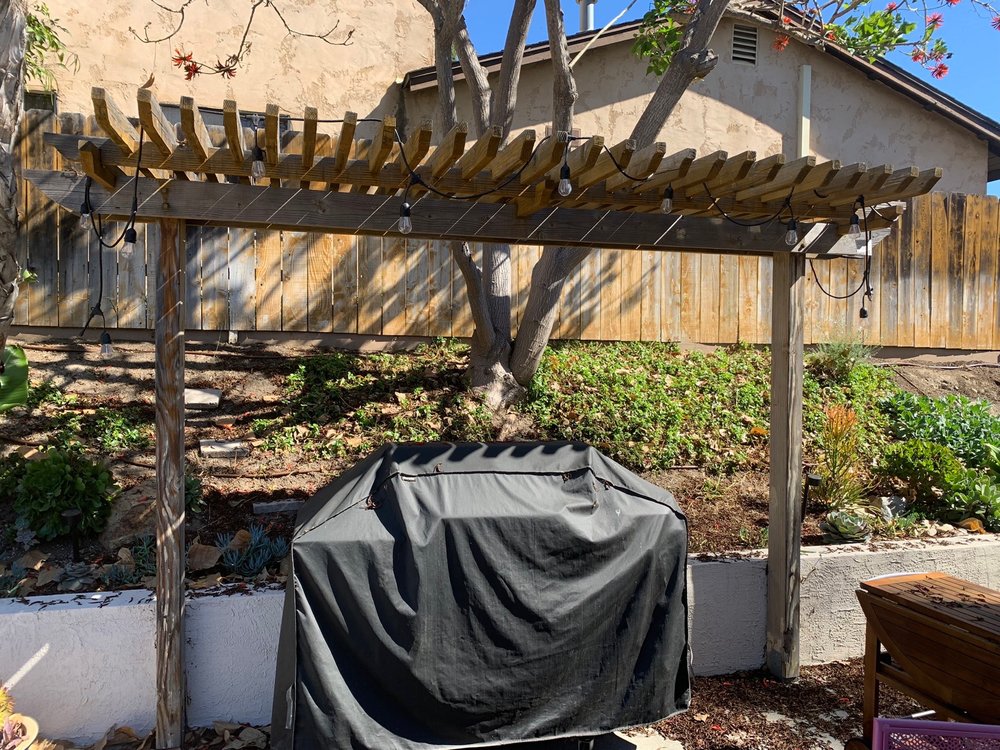 Patio Coverings
+16198718559
Escondido, CA 92026
Bravo Patio Covers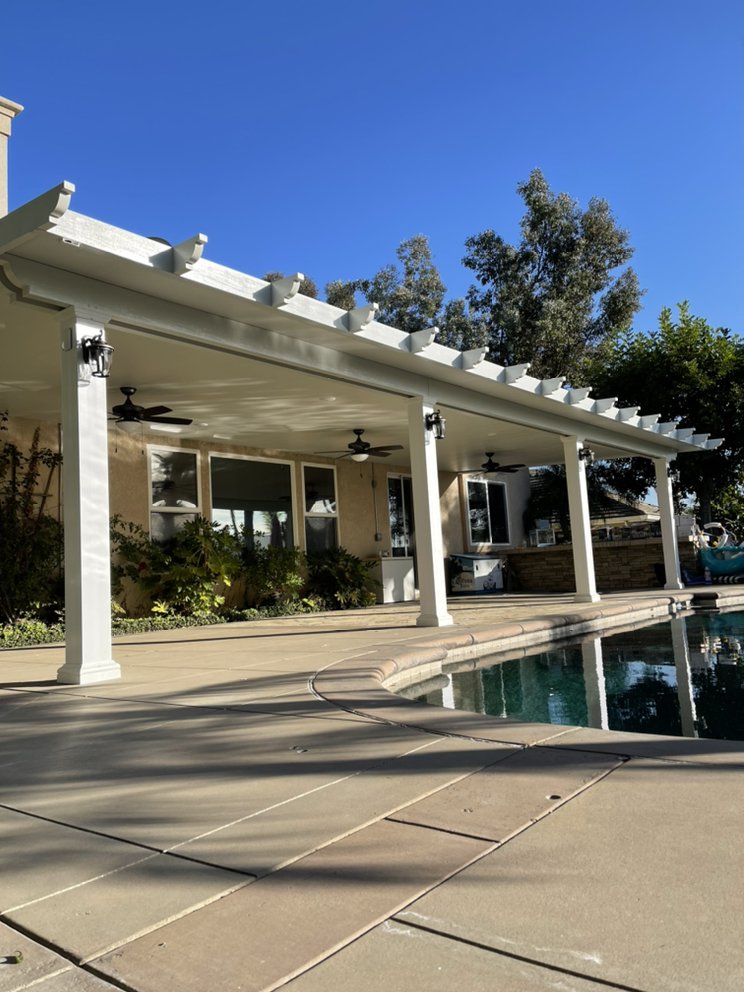 Patio Coverings
+19515821767
Corona, CA 92883
About Our Company and Service
Thank you for considering RKC Construction services near Vista CA.