Patio Covers San Diego County
Enjoy the beautiful San Diego weather in one of our high-quality patio covers.
During the warm summer months, the intense heat of the sun can make the experience less than comfortable. Fortunately, we have an easy, cost-effective solution. Our high-quality patio covers are designed to shield you, your family, and your guests from the sun's rays so you can enjoy outdoor picnics, barbecues, and parties even on the warmest days.
High-Quality Aluminum Patio Cover
A high-quality patio cover will protect you from the hot and humid weather in the summer months. In fact, a new patio cover is one of the most affordable home improvement projects that can be undertaken by a homeowner. It can protect your outdoor furniture from the UV rays of the sun and keep them in excellent shape in the long run. A customized patio cover will extend your outdoor living space allowing you and your family to spend more time in the backyard regardless of the weather. Although many homeowners don't realize, a quality patio cover can help keep the interior of your home cooler during the summer months by shading the windows. A custom aluminum patio cover requires little or no maintenance at all. These are some of the important advantages of an aluminum patio cover.
We install any style of patio cover including: traditional open style lattice patio covers, solid style insulated laminated patio covers, combination style Elitewood patio enclosures, Alumawood aluminum patio enclosures, awnings, pergolas, and patio enclosures. Our patio enclosures feature optional Illumaview™ Skylight Systems and ceiling fans and are fully customize-able to fit your material and color preferences.
Contact RKC Construction today to learn more and schedule a free quote today!
Solar panels can be installed on any 4″ insulated patio cover. Panels will be specifically engineered for your home.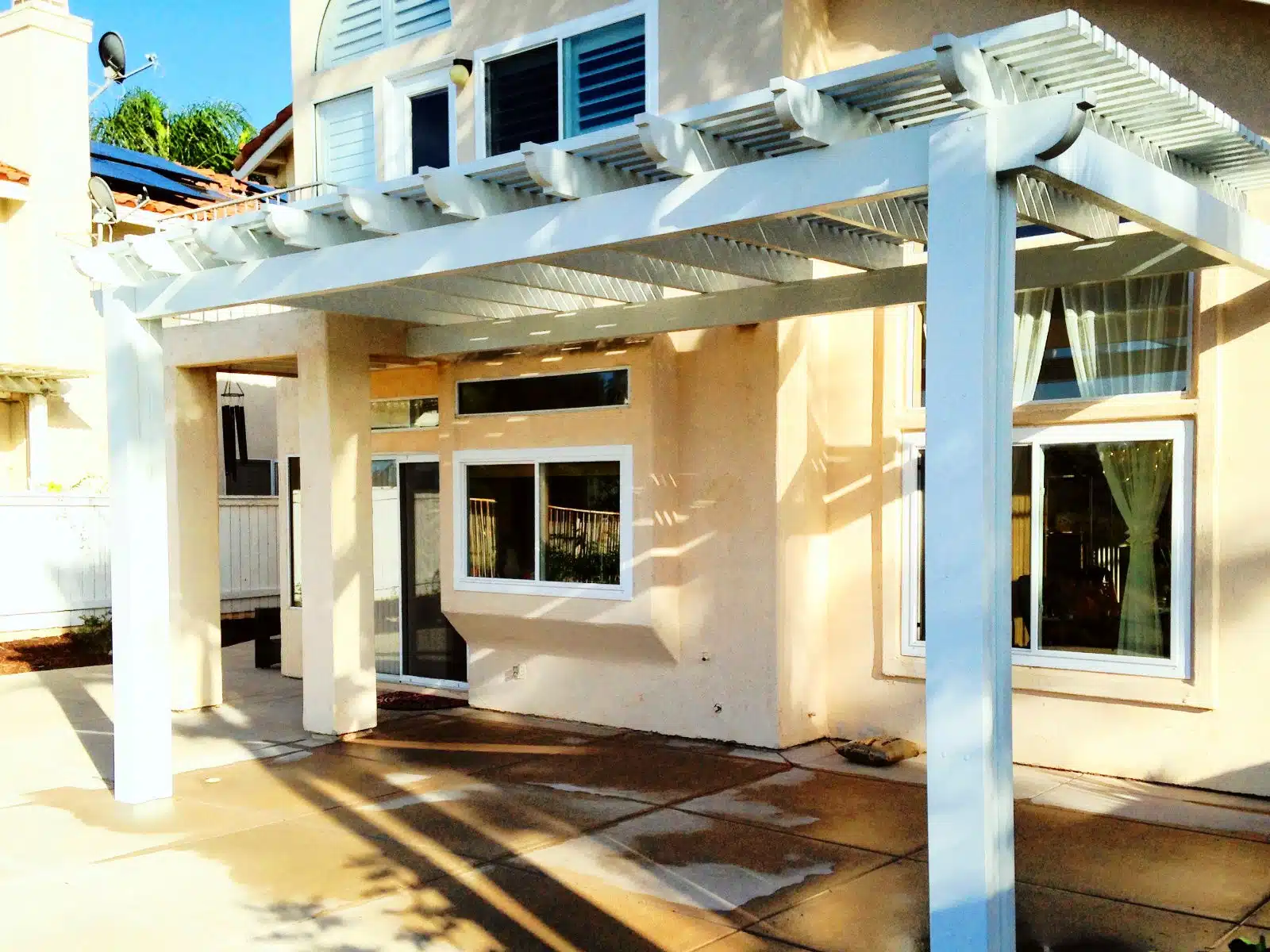 Open Style Patio Cover
Select the amount of shade you prefer with a traditional style open lattice patio cover. Open style patio covers can also provide a cooling ventilation effect for your covered patio area.
Solid Style Patio Cover
Complete protection from the sun or rain. Solid style patio covers are available in both insulated and non-insulated models. Ceiling fans and light fixtures are also optional.
Combination Style Patio Cover
Get the best of both worlds with a combination style patio cover and enjoy your patio rain or shine. Custom design your patio cover for a complete outdoor living experience.
Locally Owned & Operated Since 2004
Providing quality service to home and business owners in the San Diego County area since 2004.
Contact us today for a free estimate.